Meet TALIA™ Jewelry - The Game Changer in Jewelry
At TALIA™ Jewelry, we believe that style is a matter of individuality; a true celebration of a woman's self-expression. With a radically new approach to jewelry design, we invite you to co-create your own unique pieces with us, giving life to your personal style, beauty, and sensuality. What's more: each TALIA™ Jewelry piece features an original, patented mechanism, so you can always easily change, rearrange, and expand on your design. And since you buy directly through our website, you circumvent hefty third-party markups and get top value at affordable prices.
About Us
TALIA™ Jewelry was born out of a need to cater to the wishes of today's confident, successful woman, a woman like you, who wants her jewelry to be both unique and versatile, precious yet affordable, classic yet contemporary, easy to wear and, perhaps most importantly, easy to vary. This woman who enjoys freely composing and changing her style provides the inspiration for Tal Man, the jewelry designer and founder of TALIA™ Jewelry.
A Power Couple with a Passion for Beauty
TALIA™ Jewelry is the brainchild of Tal Man and Ronen Berka. A gifted goldsmith with exquisite taste, Tal is in charge of the creative side of the business. Her husband, Ronen, leverages his extensive experience in business management to ensure flawless operation and execution. Both are driven by a passion for beauty and a desire to redefine jewelry as a means to emphasize a woman's personality and unique style.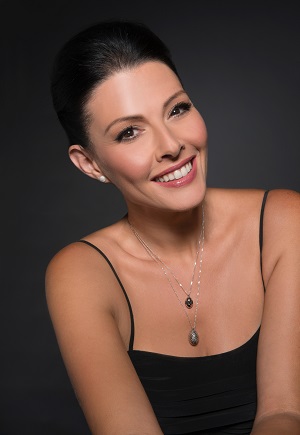 Tal Man, Co-founder and the designer of TALIA™ Jewelry
Our Craft and Your Creativity
Browse our collections, select the design you love, and then choose your favorite jewelry parts from a wide variety of options. Mix and match the pieces on our website to see what works best for you, then purchase your unique creation. Alternatively, opt for one of our well-appointed, ready-made kits, no work necessary. Either way, you can always reformat and change your TALIA™ Jewelry to best match the ever-changing you.
Simple Pricing
By selling directly to you, and not through third-party retailers who add their own mark-ups, we are able to keep our prices reasonable. You get what you pay for: pure materials, hand-craftsmanship and a comprehensive warranty.
What Goes Into an Exclusive TALIA™ Jewelry Piece
Quality is at the heart of TALIA™ Jewelry and imbues both the materials we use and the production process we put in place. Handcrafted with love, all our pieces are made from 925 Sterling Silver. Nickel-free and plated with two layers of Palladium and Rhodium, our jewelry is hypoallergenic and provides lasting shine and durability. Our Rose Gold jewelry also features real gold plating. Each individual piece is subject to four different inspections at four different production stages to ensure it meets our stringent quality standards.
Seriously Committed
At TALIA™ Jewelry, we take our commitment to our customers, our investors, and our planet very seriously. We craft our jewelry and source our materials in accordance with the highest standards of social, environmental, and human-rights practices.
A Comprehensive Warranty
In the unlikely event that you experience an issue with your TALIA™ Jewelry despite reasonable use, we are happy to offer you a free repair or replacement within the first 12 months of the purchase date.
And Remember: YOU MADE IT!